An upgraded curriculum created by the YMCA of the USA, our new swim curriculum is based on extensive research, and we look forward to seeing swimmers advance more quickly through the stages. Students begin with and build upon skills they are ready to learn, helping them to celebrate their successes, build self-confidence, and enjoy water safety while also learning to swim. The fun fish names we previously used to identify the different levels have been replaced with names that more closely relate to the skills we will be working on is each stage.
Looking to register for the Botkins Barracudas Swim Clinic? Click here.
POOL SCHEDULE
Lap swim can be used for swimming laps, water walking and excercising with or without equipment. Lap swim can not be used for open play.
Lap Swim is for members 15 yrs. and older, unless a member of the Y Swim Team. A responsible adult must be on the deck or in the facility for swim team children under the age of 13 yrs.
Family swim time - no reservation is needed. Space is available on a first come, first served basis.
Pool Rules:
Children 6 and under MUST have a responsible adult with them in the water at all times.
Children ages 7-10 that cannot pass the swim test MUST have a responsible adult in the water with them at all times.
Parents or guardians of children ages 7-9 who pass the swim test are not required to stay in the pool area as long as they stay in the YMCA facility.
Only Coast Guard approved floatation devices are allowed in the pool.
SWIM LESSONS AND CLASSES

During the month of June, only private swim lessons are available. To schedule, contact Sonia Jaziri, Aquatics Coordinator, at 937-492-9134 or sjaziri@sidney-ymca.org.
Not sure what level your child should be in? Check out the Swim Lesson Selector
In-person lessons begin July 6th! • NOTE: For swimmers in Levels 1-3, a parent/adult MUST be in the water with their child.
Parent with Child Lessons
Accompanied by a parent, infants and toddlers learn to be comfortable in the water and develop swim readiness skills through fun and confidence-building experiences. while parents learn about water safety, drowning prevention, and the importance of supervision.

Water Discovery/Exploration

---

Preschool Swim Lessons
Students learn personal water safety and achieve basic swimming competency by learning two benchmark skills:

Swim, Float, Swim- sequencing front glide, roll, back float, roll, front flide, and exit.
Jump, Push, Turn, Grab

Level 1 Water Acclimation
Level 2 Water Movement 1

---

Youth Swim Lessons
Level 2 Water Movement 2
Level 3 Water Stamina
Level 4 Stroke Introduction
Level 5 Stroke Development
Level 6 Stroke Mechanics
---
Private and Semi-Private Swim Lessons
Available by appointment, please visit the Welcome Center for more information.
Adult Swim Lessons are also available by appointment only.
Options:
Private: 30 Minutes, 45 Minutes
Semi-Private: 30 Minutes, 45 Minutes
Value Packages Available!
Questions?
Visit our Welcome Center or contact Sonia Jaziri at (937) 492-9134 or sjaziri@sidney-ymca.org
COMPETITIVE SWIM
Join the Sidney-Shelby Co. YMCA Stingray Swim Team!
Our Swim Team serves the spirit of competition; keep physically fit and fellowship of the team. We hope to provide each swimmer the opportunity to grow both socially and emotionally, through learning the values of team sportsmanship and team cooperation. Through the program, we focus on the Y's Core Values: Caring, Responsibility, Honesty, and Respect. Learning and practicing these values is required.
This program is open to all Sidney-Shelby County YMCA members, ages 5 and older. The swimmer must exhibit cometency in the minimum competitive distance for their age group in freestyle and backstroke. The swim season typically runs October through February, with championships in March for those that qualify.
Learn more: contact Sonia Jaziri, Aquatics Coordinator at 937-492-9134, x211 or sjaziri@sidney-ymca.org
Swim Stroke Clinics:
YMCA Swim Team stroke development clinics are for beginner swimmers looking to improve stroke technique, as well as experienced swimmers looking to refine their skills. The stroke clinic focuses on one competitive stroke at a time building technique, strength, speed, starts and turns. Swimmers will be divided into small groups based on swimming ability so that instructors can modify instruction appropriately. Participants should be at least age 5 and one of the following: completed level 3 of YMCA Progressive swim lessons, completed at least 1 year of YMCA swim team, or have approval from the Aquatics Coordinator.
2021 Swim Stroke Clinics - Classes run from 6:30pm to 7:30pm on the dates below. Register online or stop by the Welcome Center.
June 22, 24, 29, and July 1 - Freestyle and Backstroke $30
July 6, 8, 13, and 15 - Butterfly $30
July 20, 22, 27, and 29 - Breaststroke $30
August 3, 5, 10, and 12 - Individual Medley (I.M.) $30
Group Water Exercise
We offer shallow water classes and deep water classes that give a cardiovascular workout using the water as resistance, but is easy on the joints. These classes are included with your membership!
For a current list of group exercise class offerings, click here to check out our Program Guide.
*Open Registration for Group Exercise classes begins one week before the start of each new monthly session. Register online or stop by the Welcome Center.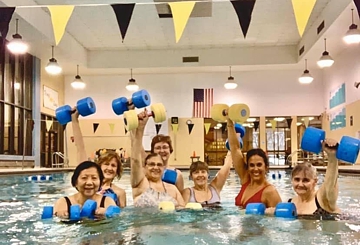 LIFEGUARD CERTIFICATION -
Re-Certification by appointment
Blended Learning Courses for Lifeguarding and for CPR (combo of in-person and online) are offered several times throughout the year.
Take the class online.
Visit the Welcome Center to schedule an appointment to complete the in-person part of the course.
Receive your CPR certification.
Learn more. Call 937-492-9134 or email sjaziri@sidney-ymca.org
For a listing of current and upcoming certifications click here.
WATER SAFETY WEEK 2020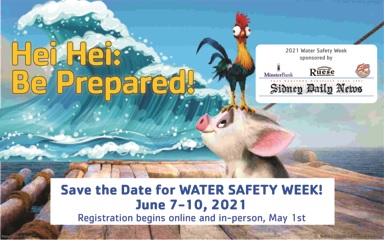 Many thanks to our 2021 Water Safety Week sponsors, Minster Bank, Ruese Insurance, and the Sidney Daily News! We are excited to announce that our 2021 Water Safety Week event will be in person, June 7-10! This FREE program is presented to the community in an effort to help children learn to feel comfortable and safe around the water.
Keep an eye out on our Facebook page, as well as here on our website and in the Sidney Daily News for Registration information! Registration will begin May 1st online and in person at the Y. Please note that this year mail in registrations will not be accepted.